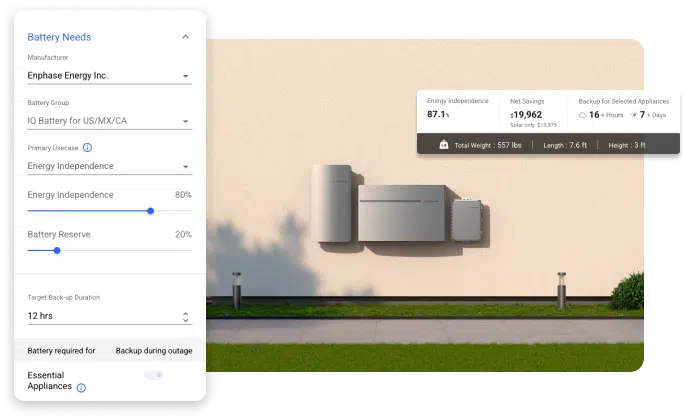 With Solargraf's newest update, we added one of our most requested features ever, solar battery design. While the option to include solar storage pricing in proposals has been available in our solar software for a while, we wanted to redesign the feature to ensure that solar professionals have better tools available to fully model and size battery systems right in the design tool.  
Here's everything you need to know about using Solargraf to model backup power, how it works, and why you should be using this tool to upgrade your solar system designs today.  
How our New Solar Storage Sizing Feature Works
With solar storage technology getting better – and cheaper every day, it's natural that interest in backup storage for home solar systems is increasing.  
This is why we wanted to implement an easy way for solar installers and sales teams to quickly and accurately model solar battery storage right in our software so that they can easily determine how much backup solar storage a customer may need based on their system size.  
Solargraf's storage design feature will allow you to find the exact kWh amount of storage your client will need based on the inputs you provide and a conversation with the homeowner who is interested in an energy storage system.  
Once you learn more about the customer's solar storage needs, be it for backup power, energy independence, or savings on their electricity bill, Solargraf will recommend the right solar battery and size for their exact needs.  
How to use Solargraf's Solar Battery Design Tool
Before jumping into designing your first solar-plus-storage system in the software, you'll want to ensure that you have batteries and pricing set up in your company settings, just like you would for any solar panel you would like to use within Solargraf. Pick from our list, including Enphase IQ Batteries and Tesla Powerwall, or add your own, and you're ready to start designing battery systems! 
Within Solargraf's design tool is a new tab called "Add Battery," where you can easily access everything you'll need to size solar storage systems for your clients.  
From there, all you need to do is select the solar battery manufacturer you would like to use, the battery group, the homeowner's primary use case – either backup during power outages, energy independence, or savings – and let the software determine what the best system for the job will be. 
You're free to rely on the defaults provided in the solar software or drill down into the homeowner's needs based on the appliances and other power-hungry electronics in their home, which of those they would like to back up, their operating usage, and how many hours they are each used in an average day to get the most accurate results possible.  
Solargraf will also provide you with information about the storage cost, savings, the percentage of energy independence achieved, and the amount of time the system recommended will provide continuous backup for the home or appliances selected.  
All of this information will now be available on your solar proposal for the homeowner to look over. At the same time, you can edit and update the information on the fly at the kitchen table based on their thoughts on their backup system.  
Why You Should Be Using Solargraf's New Solar Storage Design Tool
While solar installers have been seeing an increase in requests for backup power for a while now, many homeowners aren't really aware of the costs and savings associated with including storage in their solar power systems.  
Using the good, better, best feature available in Solargraf's opens up a brand new way to upsell on every solar quote with storage options.  
Solar salespeople can now offer up three separate proposals for the same solar job, opening up the possibility of including one quote for a basic solar system with affordable solar panels, one higher-end or larger solar design, and one with a home battery included. This allows their clients to really see the difference adding a battery backup can make when it comes to their needs.  
Adding solar storage options to every quote you send will naturally make more homeowners aware of storage systems and what they can do for their solar systems, whether they're off-grid, grid-tied, or if they live in areas with frequent power outages or high electricity bills. Solar energy storage is the future, after all.  
In Closing
Solar battery storage sizing is just one of the many features available within Solargraf's solar software to help solar professionals scale their businesses with ease and unparalleled accuracy. From powerful solar design, fully customizable proposals, speedy permits, and financing integrations, Solargraf has everything you need to quickly and easily sell solar in minutes, from anywhere.  
Book your free demo today to see why Solargraf is the only solar software solution your solar business needs to handle every aspect of the solar process, from lead to post-sale.