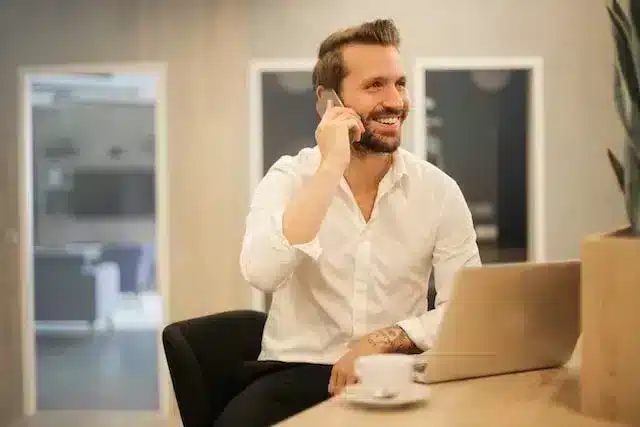 The solar industry is one of the fastest-growing industries globally, so it's no surprise that new entrepreneurs consider getting involved in this boom every day. If you're reading this right now, you're likely thinking about riding this solar wave yourself, but you're not sure where or how to start.  
While starting any business can be a large endeavor for anyone, this article will serve as an introduction and guide on starting a solar company, from the very beginning to how to generate leads and scale your company up from a one-man operation to a fully staffed and operational business.  
Whether you're brand new to the solar industry and just earned the required PV licenses to work in your state, or you're a solar installer or salesperson looking to branch out and start something new, there's something in this guide for you.  
How to start a successful solar company
Congratulations! Choosing the solar energy industry as the path for your business is a wise and responsible choice. Not only is it a growing industry with tons of room for success, but it also contributes to a cleaner, more sustainable environment. 
Before you jump right into it, though, let's talk about one thing: goal setting. Without proper goal setting, your solar company will be like everyone else's – with no direction and nowhere to go. You can't just say what you want to do; you need to set deadlines and create action plans that will help you sustain the business. Can your actions meet your expectations? 
Examine past projects or events that were successful in this field and see if you can follow their pattern of success in creating your own goals. Also, keep an eye on other companies in this field who are doing well with their goals. If one of them has set up five branches around the globe in six months, don't try to match them if you're still new to this industry, as the chances are high that you won't be able to meet their standards yet. 
Instead, aim for more realistic goals like hiring your first wave of staff within the first year; whatever works for you and helps build your confidence and reputation among clients and competitors over time. 
How to Get Started/First Steps
Once you've set some realistic goals for yourself, it's time to plan and get started. Here's a quick list of every step you should consider before starting your business.  
Settle on a business structure

(sole proprietorship, partnership, corporation).

 

Write a detailed business plan.

This is important as it will guide all your decisions and help you secure funding.

 

Educate yourself further on the solar industry and learn to analyze the market.

This will help you understand how your business fits in and determine its prospects for success. Learn what your competition is doing and identify how to stand out from them; that is, offer something different or better than they do.

 

Design a

solar marketing

 plan

. This should be based on a SWOT analysis; that is, an analysis of strengths, weaknesses, opportunities, and threats concerning other businesses in the same industry. If this sounds complicated, don't worry too much, as there are plenty of online resources detailing exactly how to go about this step-by-step.

Apply for funding if required.

You can apply for grants or loans from various government agencies. If successful, you'll then have to figure out what equipment/inventory you need to buy and build so you can have everything ready when the funds arrive. You may also need some initial investment capital which can come from personal savings or friends/family members willing to invest their money into your venture (be sure they're aware of any potential risks, though!). Consider using crowdfunding platforms like Kickstarter, too – it could give your company exposure while raising money simultaneously!

 
Writing A Solar Business Plan
Writing a business plan is one of the first steps in starting a solar business. For many, this means creating a comprehensive, 30-plus page document covering all aspects of your proposed company, from market research to financing and marketing. 
However, there's no need to panic – it's possible to create an effective business plan without spending weeks at it. Below are the six most important things you need to understand when writing one: 
Know your market

 

Know your competition

 

Know what makes you unique

 

Know how you're going to finance your business

 

Know what equipment and tools you'll need

 

Know how you're going to find clients

 
When writing your business plan, you must answer a few questions about what makes your solar installation business unique. What sets you apart from the competition? What expertise do you bring to the market? Why would people want to buy from you rather than someone else? 
The truth is that most of your competitors will have roughly the same level of experience as you. So, when thinking about what makes your business unique, think about why it's in a good position to succeed. 
Perhaps you are passionate about sustainable energy and believe that our society should be powering itself with renewable energy sources like solar power. If so, make sure this passion comes through in your marketing materials and customer interactions because it might be what sets you apart from other installers who just see this as a way to make money. Make sure that potential customers know how passionate you are about what they are buying rather than being sold on price or naivety alone. 
Understand what tools and equipment you'll need to invest in to get your business up and running. This includes what kind of stock of PV panels, inverters, wires, etc. you'll want to have on hand to start with, as well as any common or specialized tools and safety/construction equipment you'll need to provide yourself and your team with.  
Your business plan should also include some plans about staffing your company for the upcoming year. How many salespeople do you think you'll need? Do you want to build multiple small teams of installers to cover more ground, or do you just need one or two to start with? Will you hire an in-house marketer or rely on agencies and freelancers? How much are you willing to pay people to provide the level of quality you want your business to offer, and how much do you want to spend on advertising to get your name out there?  
Funding Your Solar Business Startup
There are many ways to go about funding your solar business. You can use your own cash (a home equity line of credit is a popular option), take out a small business loan, get an SBA loan, or even use crowdfunding or credit cards. If you're unsure of how much money you'll need to start up, it's best to consult with a nonprofit organization that offers advice and guidance on the process (like SCORE).  
If you don't have enough money to start an entire business right now, consider starting off as a subcontractor for another company until you're able to stand on your own. This will give you some time to save up and gather the funds you need, but it will also keep you in the loop of what's going on in the solar industry and help you build and maintain your own solar skills and knowledge.  
Learn about your local solar market
You can have all the skills and certifications in the world, but if you don't understand what your own, local solar market looks like, you'll probably have some trouble starting a business that fits in with what your potential clients need. Market research can take many forms. Here are a few things to learn about when discovering your local solar market. 
Size:

How big is your solar market? How many solar companies already operate in your area?

 

Customers:

Who are the people in your service area? What do they want? Where do they find their information and spend their time? How much do they like to spend?

 

Competitors:

What do your competitors offer? Why do your potential solar customers choose your competitors for their solar projects?

 

Potential Gaps:

Are there any gaps in the market that your competitors are neglecting? How can you fill them? 

 
Now that you know about the major solar markets in your area, what are some of the factors that make them more attractive to do business in than others? Each business has different needs and goals, and yours might differ from others. This is why your next step is to take a deep dive into your local market's trends and big players. 
What are the trends in your local solar market?
Understanding trends is important for any solar business. Solar is a growing industry, but how fast it grows and why depends on many factors. 
Solar market trends can be tracked using the following sources: 
The Database of State Incentives for Renewables and Efficiency (DSIRE) tracks incentives in real-time. DSIRE has one of the most comprehensive and up-to-date lists of state, local, utility, and federal incentive programs that promote renewable energy. Explore their website to search for financial incentives related to solar applications where your company will operate.

 

Access the U.S Department of Energy's SunShot Initiative website regularly to stay up to date on market data, reports, and current news in the solar industry.

 
It is also important to learn about which companies are active at both the national level and within your local area by reading trade journals like PV Magazine or subscribing to newsletters such as those published by SEIA, SEPA, and Canary Media. This will also help you stay updated on new programs, incentives, and new equipment. 

 
Learn about your competitors
No business should be run without some competitor research. This is essential to the success of your solar business. You need to know who you will be competing with within your market, what they do, and how they do it. This will help you create a plan to beat them. 
Identify their strengths and weaknesses. While your competition should be taken very seriously, do not forget that for a new business, it is also essential that you identify your own strengths and weaknesses to fill any gaps in the market left open by other companies. 
Find out how they reach customers. What channels do they use? How effective are these channels? Which channels could you potentially use as well? Do they have a blog with content that helps them to generate leads? What are they missing on their blog, and how can you put together content to draw traffic to your own website? 
Generating Leads, Clients
There are many proven ways of generating leads and potential clients, but the one that we have found to be most successful and cost-effective is online marketing. With online marketing, you can target your customers based on location, income range, age range, interests, titles, etc. These targeting options allow you to find your ideal customer easily and provide your services right when they need them. 
To generate leads with this method requires a few things: A website and landing page created for conversions, a blog where you offer useful information about solar energy, and some form of lead magnet that offers people something valuable in exchange for their contact information (like an eBook or report). An email marketing campaign designed to nurture leads over time until they are ready to make a purchase should also be set up to build trust with people who provide you with their information.  
You should also consider setting up a presence on social media since most people have accounts nowadays and visit these places often. Here, you can build a community, educate people, and display what services you offer, all for free. You can also run paid ads on these platforms to supplement your search engine marketing efforts and link back to your website as many times as you'd like in an effort to gather emails and phone numbers for your salespeople.  
How to Scale
Scaling a solar business is no easy feat, but it's not impossible either. Once you have a small team of passionate employees and a few processes in place, building up from below shouldn't be too complicated or challenging. Here are the three main things you need to build at your solar company if you're looking to scale.  
Documentation:

Keeping a record of everything is essential to growing a business. Document everything from sales processes, important information, and logins, instructions on how to complete certain tasks, manage inboxes and communicate with other teams in the company. All this documentation should be kept in a secure location, and everyone who needs to be in the know should have access. This prevents employees from leaving with essential information that no one else knows and helps new hires get onboarded effectively. 

 

Structure:

Even if you don't have the employees to fill certain roles yet, build up a company structure that you aspire to have in the future. For example, if you only have one salesperson right now, plan for that person to get promoted to team lead and hire below them. When people start telling you that their workload is increasing, make plans to hire people to cover the added workload. 

 

Trust:

Your first employees should be people you believe can do a great job and people you trust to make decisions for you. As your company grows, you won't be able to be as hands-on as you might have been when you started the business. Trust that the people you hired are competent enough to handle their departments, and let them build them up as necessary. 

 
Every company starts from nothing. The difference between those that make it, and those that don't lie in how well they are able to handle growth and scale up.  
Difficulties of running a solar company
The solar sales industry is not for everyone. Not everyone has the work ethic, personality and attitude to succeed in this type of business. So if you are looking for your get-rich-quick scheme or something to do on the weekends, this isn't it. 
The solar sales industry requires an extremely high level of commitment from your employees and incredible discipline, patience, and self-motivation. Every day, you will face rejection, challenges, and obstacles you never even thought about before venturing into business ownership. If you cannot handle adversity or have a low threshold for stress, then maybe running a solar company isn't for you. 
On the solar industry side of things, supply issues might cause problems for the solar jobs you have in the pipeline, state and federal incentives or programs might be canceled or dry up, and there's always the risk that some newer, better renewable energy technology pops up and leapfrogs right over everyone in the solar industry.  
On the business side, employees will quit, customers will occasionally be unhappy with your work, and money might be lost along the way. The difference between a successful business and an unsuccessful one is how the owners and CEO can effectively adapt and handle these issues. 
In Closing 
Starting a solar business requires a lot of planning, consideration, money, and effort, and it isn't for everyone. The good news is that if you follow this guide, you'll have a great foundation to start off with. While we can't help everyone build their own solar companies, the tips we've laid out here are definitely a great starting point for anyone looking to grow and be successful in the solar industry.  
Looking to scope, sell and complete more solar projects than ever? Solargraf is the most user-friendly, robust, and fully integrated solution on the market. Book your free demo today to learn more about growing your business with Solargraf.