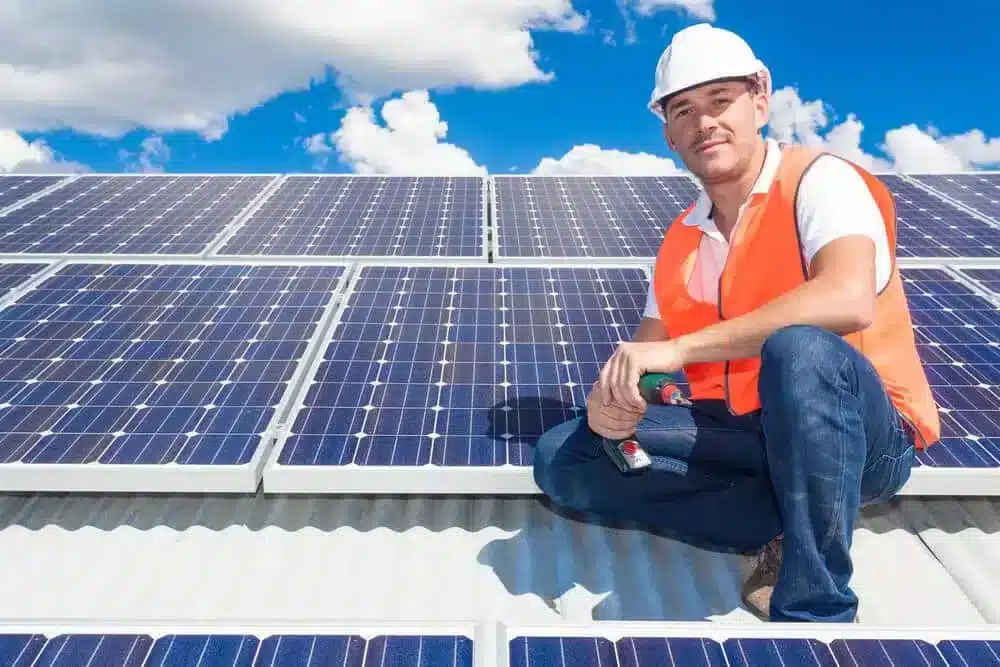 If you live in the USA, you probably need to be licensed to install solar PV systems. There are a few reasons for this, but most importantly, it protects homeowners. Unlicensed installers may cause unnecessary damage to homes and endanger those living there. As a result, most states require an electrician's license at a minimum, and many recommend or require further solar installer certification. 
Here's everything you need to know about what is required to be a licensed and certified solar installer in the United States, from the benefits to a breakdown of each state's specific solar certification requirements.  
Do you need a license to install solar panels?
The short answer to this question is "no," but if you want to start a solar business or start working for an already established one, you will likely need some sort of training and certification to use your skills professionally.  
Anyone can walk into a home improvement store or contact a distributor, buy a few panels and install them on a roof. If you actually want to make a living doing so, however, you'll need some proof that you're a reputable installer to get hired and start making sales with the public.  
Why get licensed?
1. The legal right to install
It is illegal to install solar PV systems without an electrician's license in most states. However, some, such as Alaska, only require general contractor licenses. If you already do solar installations, you will know this (of course), but if you are looking to get into the industry, check what is required in your state in our list below.  
Further certifications may not be required for legal reasons, but there are certainly benefits to getting them. Benefits include a higher level of skill and knowledge than your competitors, which can set you apart from the rest and ensure that homeowners choose you as the more reputable installer.  
2. Increased incentives for customers
In some states, homeowners will not be eligible for certain incentives or rebates if their installation company doesn't have PV certifications. For instance, homeowners may not be eligible for certain rebates in Pennsylvania unless their installer is NABCEP, ISPQ Accredited, or NECA certified. 
Since solar panels are such a large investment for many people, most homeowners will avoid choosing a company that can't get them the best deal on their system, and as you may know, incentives, rebates, and tax credits are a great way to lower the overall cost of the system and installation.  
Offering a proposal to a homeowner without a "rebates and incentives" section is a sure way to ensure that your quote gets thrown out, especially if someone has already received a proposal from a certified company that can offer a better price through such discounts. 
3. Make the sales process easier by creating trust
Certification above and beyond the minimum can be very helpful for solar sales. These certifications help reduce stress and worry for homeowners, leading to an easier sales process. Even better, NABCEP certified installers get listed on the Certified Installer Locator. You can also display the certification badge on your website to make it clear to all prospective customers that you are trained professionals. 
The construction industry has a bit of a reputation for being full of fly-by-night, untrustworthy salespeople and contractors, which leaves many homeowners on high alert when shopping around for home improvement projects like solar installations. Wear your certifications and licenses with pride, and display them everywhere it's relevant to give people peace of mind that your work is high-quality and meets all the performance and safety required by your state's government.  
How to get certified to install solar panels
Your first step is to check out the state-specific requirement list below and learn about what is absolutely required to become a professional solar installer in your state. Next, you'll want to look at the "nice-to-have" solar certifications available both in your state and in the country to set yourself above your local competition.  
Many local colleges and vocational schools offer electrician training, and some even have specialty courses on renewable technology and solar PV installation. If you're brand new to the industry, get started with learning about the basics of how solar panels work and are wired before signing up and paying for a course and exam on the technology. This will increase your odds of passing the course and ensure that you don't get stuck having to redo any classes or exams a second time, which has the potential to be a huge time-sink and waste of money.   
No matter where you are, getting certified with NABCEP is a must for anyone looking to start a career in the solar industry, as this will not only get you high-quality training but will also open you up to the solar installer community and the companies operating in your area, and in the country as a whole, allowing you to make friends, network, and potentially find a job once you're certified.  
What level of qualification is required by your state?
You can determine what qualifications are required to set up shop in your state by checking the Interstate Renewable Energy Council's (IREC) National Solar Licensing Database. This useful tool allows you to check requirements by state. It outlines the licensing requirements, electric codes, and incentive requirements for all states in the US. 
Requirements for each state separately.
Looking for a quick list of everything you need to start as a solar installer? Here's a full breakdown of the requirements for solar installation in every American state. We'll keep this list updated regularly, but for more details, have a look at the National Solar Licensing Database for the most up-to-date information available.  
Alabama – You'll need either an Electrical Contractor or Journeyman Electrician's license with a minimum of four years of education experience. 
Alaska – Must be an Electrical Contractor or Electrician registered with the Department of Community & Economic Development or the Department of Labor and Workforce Development. This requires 8000 hours of experience.  
Arizona – You need to be licensed in the specific type of solar device you plan to install. For solar PV, an electrician's license is required. You can also possess a Residential and Commercial General Contracting and Remolding license, but your work must be subcontracted to someone with an electrician's license.  
Arkansas – Commercial or residential contractor's license required. You'll also need an electrician's license and be either a master electrician yourself or work under the supervision of a master electrician.  
California – One of the strictest states on this list, solar installers must have a California solar contractors' license or A/B general building contractors' license plus education requirements including passing written examinations (Law and Business and the trade examination) and four years of experience with at least one year of practical experience.  
You can also obtain the C-10 classification for electrical work and the C-20 classification for Warm-Air if you plan to also install solar-powered HVAC systems. Additionally, every contractor in California must adopt both the 2007 California Building Code and the 2007 California Fire Code.  
Colorado – No specific solar certifications at the state level are required here, but certain counties require solar-specific training. All solar PV work should be done by an electrical contractor employing either a journeyman or residential wireman to get the job done.  
Connecticut – Solar companies need a Home Improvement Contractors (HIC) license as well as PV-1 or E-1 license and must be listed with the Connecticut Clean Energy Fund if they want to be eligible for rebates. Solar installers must have an E-2 electrician's license or a PV-2 license and be employed by a licensed electrical contractor.  
That said, employees of licensed contractors can do the hoisting, placing, and attaching of PV modules without a license. Additionally, one employee at each solar company operating in the state must have a NABCEP certification. 
Delaware – Solar installers in Delaware need an electrician's license to do PV work, and a NABCEP certification is needed to qualify for rebates. Changes are also proposed to ensure that solar installers continuously achieve the highest level of training currently available every three years if they want to receive any grants in the Green Energy Program. 
District of Columbia – Must hold an electrician's license and pass an exam if they want to become master electricians or journeymen. Companies installing solar PV must also conform to the 2005 National Electrical Code.  
Florida – Must possess a certified solar contractor license. This license allows solar contractors to install solar PV and solar thermal systems. People with electrical licenses can also install solar PV systems.  
These licenses require four years of experience, of which three can be replaced with college credits while one must be supervisory. Contractors must pass the trade exam and then a Business and Financial Management exam to obtain this license.  
Georgia – No requirements or licenses are required to operate as a solar installer in Georgia. Companies must only follow the NEC 2005 edition with amendments of the electrical code.  
Hawaii – A solar energy systems contractor license is required to operate in Hawaii. This is automatically granted to any licensed general contractor in the state (C-13). You can also get a C-60 license which is specifically for solar PV installation. 
Idaho – Idaho requires a NABCEP certification or equivalent, and solar companies must adopt the NEC 2008 edition of the electric code.  
Illinois – Everyone who installs distributed generation facilities must be licensed by the Illinois Commerce Commission and comply with the National Electrical Code.  
Indiana – No state requirements to install solar in Indiana. Check with your local municipality for any specific rules in the area you would like to operate in.  
Iowa – Everyone making over $2000 a year on construction work must register with the Division of Labor. You must also have either an electrical contractor's license or a journeyman's license for solar PV. Contractors in Iowa must follow the NEC 2005 edition of the electric code.  
Kansas – There are no state-level licenses or certifications required to operate in Kansas, although your local municipality may have some. Double-check with your municipality before getting started. Kansas uses the NEC 2008 edition of the electric code.  
Kentucky – There are no requirements in Kentucky besides that a licensed electrician must be present to pull the appropriate permit and perform the final connection to the meter. The NEC 2011 edition of the electrical code is used in Kentucky. 
Louisiana – Contractors must hold a license with the classification(s) of Building Construction, Electrical Work (Statewide), or Mechanical Work (Statewide) to be approved by the Board of Training to install solar energy equipment.  
If you didn't hold this license by August 1st, 2014, you'll need to be certified by NABCEP. If you're only authorized to install solar energy equipment and don't hold an electrician's license, a certified electrician must be available to do the work on installations costing over $10,000.  
Maine – To operate as a solar installer in Maine, you'll only need an electrician's license from the Electricians' Examining Board. Maine follows the NEC 2011 edition of the electric code.  
Maryland – To install residential solar systems, a Maryland Home Improvement Commission (MHIC) contractor license is required. Also, a master electrician is required to pull permits regarding solar installation. There are also a few counties in this state with more requirements. Make sure to double-check the rules of your specific county before moving forward.  
Massachusetts – Licensed electricians must install solar PV in Massachusetts. In fact, every step of the solar installation process, including permits and interconnection, must be handled by an electrician.  
Michigan – If you deal with electrical wiring, you must be properly licensed in Michigan. The state requires all PV equipment to be installed as per the manufacturer's instructions, which may require a certification or license.  
Minnesota – Everyone doing electrical work in Minnesota must be licensed by the Minnesota Department of Labor and Industry and pass an exam based on the International Building Code, Minnesota State Building Code, and Minnesota statutes. In order to pass the electrical exam and become either a Master Electrician, Journeyman, or Power Limited Technician, you'll need to pass a written or oral exam and have three years of experience under your belt.  
Mississippi – You'll need a classification of Solar and Wind Construction from the MS State Board of Contractors to quote or work on solar projects valued at over $50,000.00 to work in Mississippi.  
Missouri – There are no state requirements or general contractor's licenses in Missouri, but contractors must register their businesses with the Missouri Secretary of State and have a sales tax ID# issued by the Department of Revenue to operate a business. There also may be county-specific requirements as well. For example, Frontenac and Clarkson Valley each require NABCEP certifications or equivalent.  
Montana – There are no specific requirements in Montana besides projects exceeding 90 volts, which require a licensed electrician to complete the work. Becoming a licensed electrician requires completing an apprenticeship or a training program conducted by a bona fide union or trade association.  
Nebraska – You must be licensed by the Nebraska State Electrical Division to do any solar or electrical work in Nebraska. Some cities in the state might also require additional certifications.  
Nevada – A license by Nevada State Contractors Board under License Classification C-37 is required to install solar PV in the state. PV installers must also hold a license as a photovoltaic installer, issued by the Department of Business and Industry, Division of Industrial Relations, Occupational Safety and Health which requires passing an exam. NABCEP certifications can also be used.  
New Hampshire – Someone with a Master Electrician's license is required to install or oversee solar PV installation in New Hampshire. In order to qualify for a Master Electrician license, you must work as a journeyman for at least a year. A journeyman's license required 8000 hours of work and an Associate Degree in Electricity.  
New Jersey – You'll need a home improvement license to operate in New Jersey. When used for solar panel installation/electrical work, this license will need to be renewed every three years. You'll also need to be registered as a business with the state.  
New Mexico – As a state contractor in New Mexico, you're also licensed to work as a solar installer, and you'll need to be at least a journeyman or work directly under one.   
New York – All licenses in New York are given at the county level. Double-check with your county before beginning any training.  
North Carolina – You'll need an electrician's license to operate in North Carolina. In addition, if you'd like your company to be a "Registered Solar PV Contractor" under the Go Solar NC Initiative, you'll need to complete 35 hours of solar PV training and hold a NABCEP certification. 
North Dakota – You'll need a Master Electrician, Journeyman, or Class B Electrician's license to do any electrical work in North Dakota, but other tasks such as mounting panels don't require a license.  
Ohio – For residential projects, you'll need to inquire with your local building department, while commercial projects must be done by a licensed electrician.  
Oklahoma – Oklahoma requires that all electricians are licensed by the Department of Health and must follow the 2008 National Electrical Code at a minimum.  
Oregon – Everyone installing solar panels must hold a trade license (either Electrical Journeyman's License or a Limited Renewable Energy License). These licenses must be renewed every three years.  
Pennsylvania – There are no licenses offered at the state level in Pennsylvania. Double-check with your municipality.  
Rhode Island – A State Electrical Contractor's License, Certificate A, is required with an electrician's license and a Journeyperson's License, Certificate B as well. Obtaining these licenses requires passing an exam, and they expire every two years on the holder's birthday.  
South Carolina – A licensed electrician must be available at every job site to do the work, and every solar company must have a Certificate of Authorization in electrical work in South Carolina. 
South Dakota – You'll need an electrician contractor license in South Dakota to install solar PV, or do electrical work of any kind.   
Tennessee – Prime contractors and other electrical subcontractors will need to be licensed by the state to install solar PV projects of over $25,000 in value. Projects costing less than that require a Master Electrician or Journeyman's license for permitting.  
Texas – Everyone working in installing or repairing solar systems must be a licensed electrician.  
Utah – You'll need to take a 25-hour course to obtain a Solar Photovoltaic Contractor's license and operate as a solar professional through Utah's Division of Occupational and Professional Licensing.  
Vermont – No license is required to install solar panels in Vermont, but you'll need to install systems that meet the clearance requirements of 2012 NFPA 1 section 11.12. 
Virginia – You'll need to be a certified contractor with an Alternative Energy Systems (AES) specialty to operate in Virginia. This specialty can be obtained by passing an exam.  
Washington – Washington requires that all electrical work be done by a licensed electrical contractor, but they do not have any solar PV-specific licenses or training available.  
West Virginia – No license is required to install solar panels in West Virginia, but one is needed for final determinations into the electrical grid. 
Wisconsin – There are no requirements for PV installation in Wisconsin, but building plans might need to be submitted for review by the Division of Safety & Buildings or a certified municipality under the International Building Code. 
Wyoming – To install solar panels in Wyoming, you must be a licensed electrical master, journeyman, or apprentice employed by a licensed Wyoming electrical contractor. Wyoming employs the 2008 National Electrical Code, but other areas within the state may have different requirements. 
So, should you and your team get certified?
There are many things to do to get ahead as a solar installation company, but having a team of installers with recognized certifications is a great way to increase customer trust. It may also increase the quality of your installations, leading to faster installs and less frequent post-installation maintenance. 
Is your team certified? How has it helped your sales and installation process? Let us know in the comments!