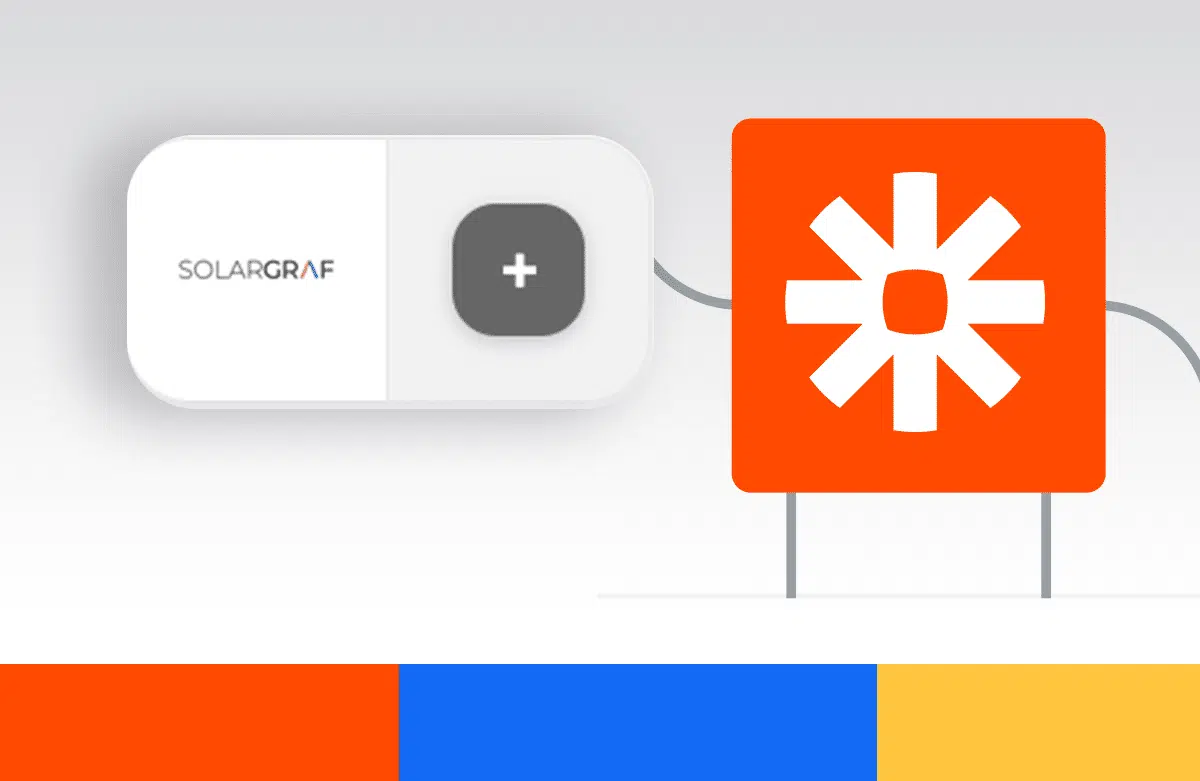 When our team first built Solargraf, we always envisioned it to be a one-stop-shop for any solar installers looking to make every step of the solar sales process easier and more efficient. 
Today, we're proud to announce another new integration built to both improve on our current offerings as well as open up a whole new world of options to any solar company looking to speed up every element of their business and workflow. Here is how to get set up with our new Zapier integration and how to make the most of it with every solar project. 
What is Zapier?
Zapier describes itself as "the glue that connects thousands of web apps", allowing you to automate almost any task you can dream of by helping your separate apps communicate together, and transmit information between themselves. These actions are called "Zaps", and you can configure them to do almost anything as long as the two apps you're using are both available on Zapier. 
For example, using Zapier, you can automatically send your email attachments to your Dropbox or Google Drive without ever having to manually save anything to your computer and upload the files yourself. If this is a task you find yourself doing often, you can see how this action being performed in the background could save you tons of time!
What can I do with this integration?
As a solar installer, you're probably using more than one app or program in your day-to-day work, and you also know that time is money. Getting your solar proposal software account linked to any other applications that you find yourself using often will be a huge time saver for you, your project managers, system designers, and sales teams. 
One of our most frequently requested features has been to allow users to import their sales leads from another CRM such as Salesforce or Zoho directly into Solargraf's software platform. This integration now makes it possible by offering you the ability to import fields such as the homeowner's contact information, monthly electric bill, appointment time, and additional comments right into the design software so you can get straight to creating a new project faster. 
You can also use Zapier to export project data from Solargraf to any other application with a Zapier integration such as the project name/ID, contact details, system size, project price (system cost, price per watt, extra costs, discounts, etc.), and materials used (panels, inverters, add-ons, etc). 
Here a few more things you can do with Zapier and Solargraf:
Send/receive an email when a new lead is created or imported into Solargraf.

Update your CRM any time a field such as project status, material change, system size is added or changed in Solargraf.
Add project information/data to a spreadsheet such as Google Sheets.
Send project data to a CRM, spreadsheet or email address when a quote has been signed.
Want to let your accounting software know that a deal has been signed so it can automatically have a customer record set up for invoicing? …Or maybe you'd like to notify your project management software that a solar quote has been created so they can assign future resources to the project? You can set that up with Zapier too! 
How do I get started using Solargraf with Zapier?
Getting started with this integration is easy:
Step 1:
First, you'll need accounts with both Solargraf and Zapier. Don't have access to Solargraf yet? You can book a demo here to take a look at the software and determine which plan will work best for you. If you need help setting up your Zapier account, you can take a look at their start-up guide at this link.
Step 2:
Once you have both accounts set up and ready to go, log in to your Zapier account and head to the Solargraf page on their app store to connect accounts. When you are prompted to enter your API Key, simply head into your Solargraf account, click on the pencil icon next to your name to view your information, and get your company's unique API Token. 
Step 3:
Copy the API Key from Solargraf to your clipboard, and paste it into the field in Zapier. You have now successfully linked your accounts and can get started setting up any Zaps you'd like!
In Closing
This integration is yet another addition to a long list of features built to help you get more done faster with less effort and time spent. Joining automatic pitch detection, Shading Analysis, customizable proposals with Good, Better, Best options, Virtual Site Assessments, speedy permits, financing integrations, and more, you can now get more done with Solargraf in half the time of any other solar software on the market. Book your demo today to learn more about how you can boost your business from anywhere with Solargraf.