When the Solargraf Team decided that our solar proposal software's quote deserved a full redesign, we also chose to add even more proposal customization options to the list to help our clients beat their competition and sell more solar through education and personalization.
In this article, we'll be outlining the newest solar proposal sections available for solar installers to customize, how to modify them, and how you can use them to ensure that your leads choose your company to help them make the switch to solar energy.
Use the About Us section to show off your solar company
By default, the "About Us" section is now displayed first on any solar project. This space is fully customizable with six different layout options and includes the option to add text, images, and even videos in whichever order you choose.
Write up a quick description of your company, or add in a few customer testimonials. Include a photo of your staff, your logo, some stock imagery, etc., or throw in a video or two that can teach the homeowner more about the solar installation process or the work you do.
This feature is here to help you put a face to the name in a largely virtual world and give your client a quick look at what your solar company is all about.
Build confidence with the Previous Projects section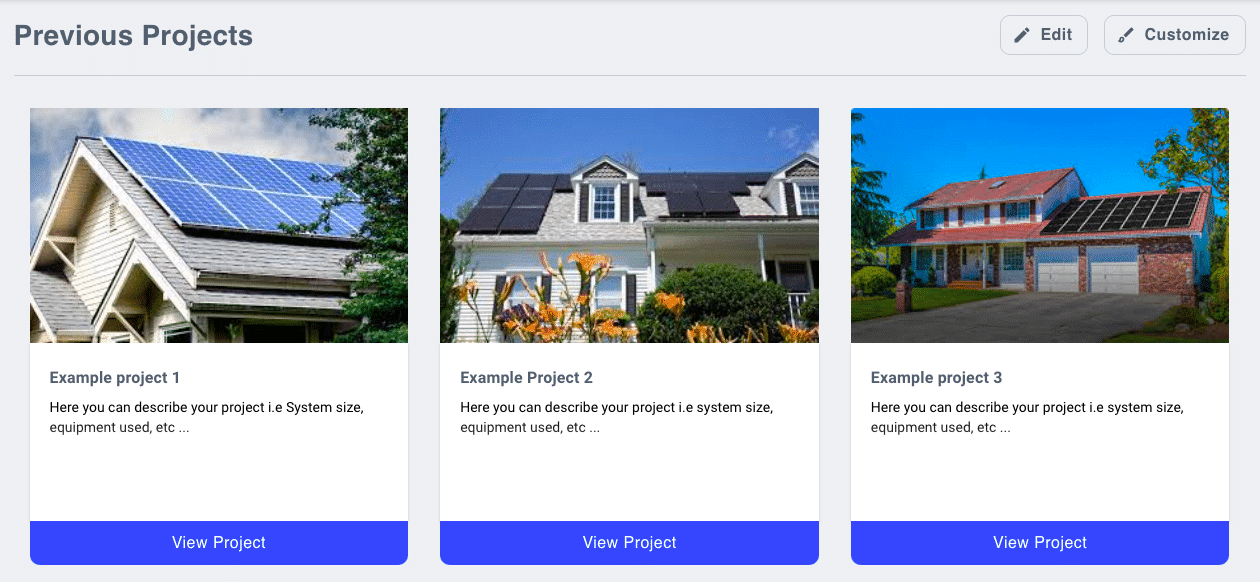 Next on our new solar software proposal update is the Previous Projects section, which builds confidence in your solar business. This section allows you to create tiles on the solar proposal to showcase any previous solar designs/projects you're particularly proud of. 
Each tile in this section allows you to add a photo with some text below it to give the homeowner an idea of the work you've done on other homes. Add a nice photo of the completed solar system, a title, and a description of the job you did. This could include the location, system size, offset, and panels used for the install. Each tile includes a button below it to enlarge the section so that the homeowner can get a better look at the work done without the proposal looking too crowded and overwhelming. 
A good way to approach setting this section up is to choose solar installs that best reflect the "average" installations that your company does so that the homeowner can get a good idea of what their system will end up looking like on their own home. If you do many different types of installs, consider creating a tile for each, for example, a commercial solar install, small residential, medium residential, or a ground-mount/carport installation. 
Get your clients to sign with the improved Other Reasons To Go Solar section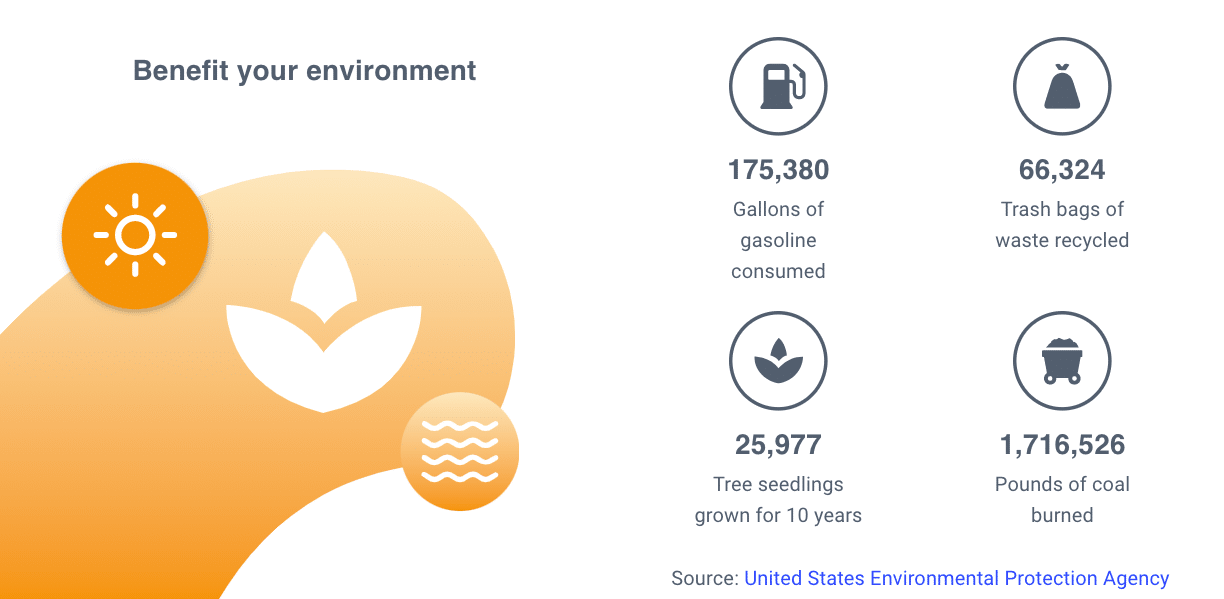 Finally, we've completely revamped the Other Reasons To Go Solar section with more facts and numbers about how solar can benefit the homeowner and the environment, and included a source from the United States Environmental Protection Agency's Greenhouse Gas Equivalencies Calculator for the homeowner to further investigate for themselves or share with their friends and family. 
As always, you can upload your header image, customize the color palette of your solar proposal, and show/hide or reorder any quote sections you'd like to better reflect your brand and sales flow. You can also display up to three different pricing/material options using the Good, Better, Best feature and easily toggle between the cash and loan proposal view as well as create different PV system designs/solar arrays and configurations depending on your client's needs. 
We've also made updates to the PDF version of the proposal to match the look and feel of the new webquote so that your client's experience is the same no matter how they view the details of their solar project. 
In Closing
When it comes to selling solar, there's more to it than just using your charm and expertise to close the deal. Top solar professionals know that beautiful visuals and proof that you are a legitimate solar installer who does quality work are also an important part of the sales process.
With Solargraf's new solar proposal sections, we're here to help support your sales team's efforts to help homeowners make the switch to solar power. Book your demo today to see the new webquote for yourself, as well as learn more about the other features we've created to help you stay organized and boost your solar PV sales such as autopitch, speedy permits, financing integrations, comprehensive shade reports, and more!