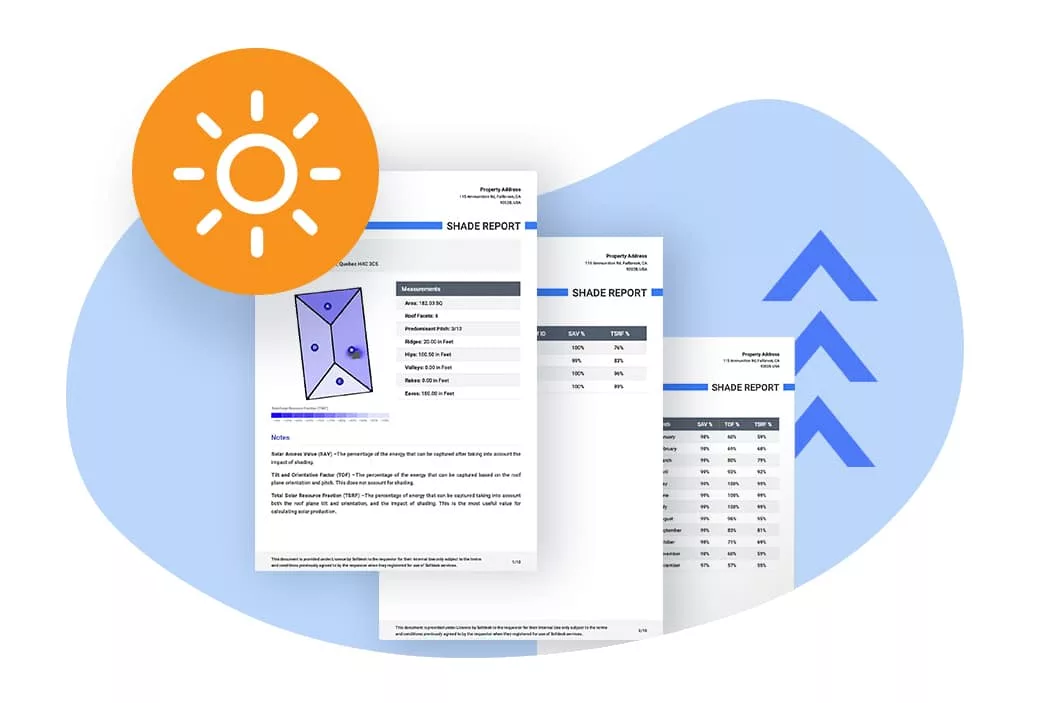 When the world went virtual in 2020, many solar installers began to worry about shifting to a remote-focused sales and installation process. While many in the industry were already familiar with using solar proposal software and solar design tools, there was always worry about accuracy when it came to designing solar systems fully remote, since many homeowners rejected site visits at the beginning of the pandemic. 
While Solargraf already had a Shading Analysis feature available, many solar companies needed something more for system design in an almost fully remote world. This is why we're happy to announce that comprehensive Shade Reports are now available in Solargraf! Here's all you need to know about this new feature, how to use it, and how it will help you nail the sale every time. 
What are Shade Reports?
While Shading Analysis is powered by Google Project Sunroof data and provides a heatmap overlay on the roof to aid project designers with solar panel placement, Shade Reports take that one step further by providing the user with the Solar Access Value (SAV), Tilt and Orientation Factor (TOF), and Total Solar Resource Fraction (TSRF) for each roof surface of the home. This gives you the most accurate values to plug into the solar proposal software to then generate the most accurate quote and design possible. 
As a bonus, Solargraf Shade Reports also include roof measurement data, similar to what is included in a roof report, to further help with the PV system design and placement. This data includes dimensions and area, pitch, and the azimuth of each roof surface. 
How to Order a Shade Report
Ordering a shade report in Solargraf's solar design tool is fast and easy. A report can be requested for any project at any time. This means that you can make a request before ever starting the system design and proposal, as long as the project has Nearmap imagery selected since the feature relies on LIDAR data for the information it provides in the final report. 
Once the order is placed, you will receive your comprehensive Shade Report within one business day or less. From there, all you need to do is open Solargraf's solar design software, input the values for the roof surfaces that you would like to place the solar panels on, and you're done! You can now finish up with your drawing and get your solar proposal generated and sent out to the homeowner. 
How Shade Reports can Help your Solar Business
1) Save tons of time
Now that you can get the same data as you would from a site visit straight from your desk, you can scratch the delay, effort, and expense of a site visit to physically and manually measure the irradiance of the rooftop surfaces off your list of to-dos for all your solar projects. Save your gas money, time, and the stress that comes with getting stuck in traffic when you have other work to do, and sales to make!
2) Get the details right the first time
Ordering a comprehensive Shade Report through Solargraf will also help you avoid the potential miscalculations that come with "guessing" irradiance values based on aerial and satellite imagery alone. This means fewer revisions, confusion, and above all, no need to waste time trying to get it right from the office to ultimately end up on the phone with the homeowner to book a site visit anyway. 
3) Outsource the busy work to our team
Another benefit to using this feature is that our team will take all the work off of your hands. There's no need to create any 3D model in the solar proposal software first to get the data right. Just let us know which house you'd like the report generated for, select Nearmap imagery and place your order. The whole process takes under a minute and you can get back to work while our team gets to work.
4) Sell more solar
Finally, Shade Reports are a great way to help your leads pull the trigger on buying a solar system. Using this data and the included heatmap, you have all the tools you need to show the homeowner the value of adding solar panels to their roof, as well as a way to explain your choice in panel placement to "tricky" leads who may want their systems installed on a portion of their roof that may be more hidden from the street view but less efficient for solar.
In Closing
The addition of Shade Reports to Solargraf's solar proposal software and solar CRM is just another way to help you get more done, faster, and with more accuracy. Adding this feature to your solar design tool roster will help you nail more sales with less work leaving you with more time to work on growing your solar business. 
Book a demo of Solargraf today to see our comprehensive Shade Report and learn more about the other features we have available to speed up your solar sales process, like AutoPitch, Good, Better, Best, speedy permits, and integrated financing.