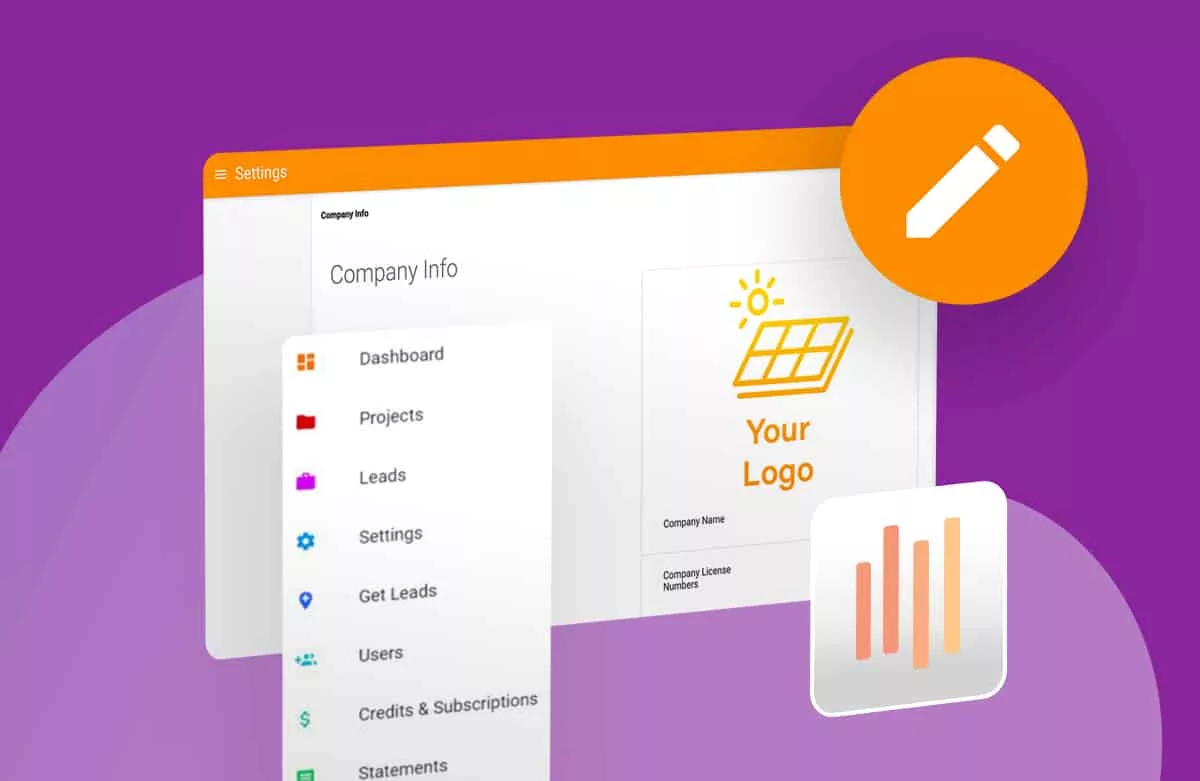 Since Solargraf launched in 2016, we've helped thousands of solar professionals get organized, manage their teams, and close more deals than ever within the platform. We've heard firsthand how our platform has helped hundreds of small businesses grow to new heights with its ever-growing list of features, partners, and options. 
Now that we have a solid foundation to expand on, we've decided to take our product to a new level of customization to continue supporting the larger businesses using our software and open our doors for other industries, such as manufacturers, lenders, and distributors.
In this article, we'll outline the features and options you now have access to with our white label solution.
1) Full software customization
Using our white label services means that you can fully customize a Solargraf experience for your dealers and customers. We will enhance your portal and add the features of Solargraf to your site. Choose which brands your dealers can offer on their proposals from your master enterprise account.
2) Loyalty and engagement with your network of manufactures, distributors, and financiers.
Solargraf is now set up to integrate and partner up with companies that offer financing options for solar projects. Integrating with our software will put your company down as an option for any user on our platform to apply for financing through your company. This option puts your business offerings directly in front of any solar company generating proposals for their clients through our solar panel software.
Get your products in front of more eyes by offering an end-to-end solution within our software. We'll build a Solargraf white-label solution for you and your dealers locking them into only providing the options that you offer to their customers.
You have full control over what your partners quote and sell with the ability to add, remove, or change items as you wish. You can also choose to make your library of products or services public to all Solargraf users, exposing your company to your offerings to more companies than ever before.
3) Insight to market data and intelligence
As a white-label user, you have the ability to analyze the data on your platform in a customizable dashboard.. Get insight on which sub accounts are generating the most proposals and making the most sales in real-time. For example, one of our white-label accounts has seen the following through their dashboard:
A 92% growth month over month on the number of dealers jumping on board to use the software
A 214% growth month over month on the number of new projects created on the platform
A 68% growth month over month on the number of new users within accounts
See what products are working best for dealers and be alerted to any areas that may need to be modified any time, anywhere.
4) Full support and training
As with all our software products, a white label account with Solargraf enjoys our top-tier training and customer support. Our product and sales teams will work closely with you to ensure that you get your account set up properly for your company's usage needs.
If you have an in-house support team, we can train them to support their own users so they can use their existing support infrastructure and make it seamless for their users. If you don't have in-house support, you can request access to full training for all of your dealers including access to our LiveChat, email and phone support as well as a growing library of training videos designed to make sure you and your sub accounts have all you need to succeed with the software, any time.
5) Dealers winning every Month, a competitive advantage
With Solargraf white-label, dealers win every month by saving time and money. This offers them the opportunity to spend more time upselling with the customer rather than jumping from tool to tool. Say goodbye to having to design in one portal, get financing in another while moving elsewhere to order a permit and manage your projects in yet another software. All the tools dealers need to go from lead to install are in one tool: yours.
With a web-based software on your side, you can access your projects, sub accounts and clients anywhere, whether you're at your desk or in the field. Web quotes can be modified and updated live in front of the customer leaving space for seamless negotiations and project/design changes.
In closing
As our company and product has grown, we've decided to expand our offerings out to different sectors of the market to ensure that the needs of larger companies can also be met within Solargraf through the addition of white-label software options.
Enterprise clients can lock in their material, financing options, procedures, and any other requirements that will bring value to their brand. Our focus is to bring value to your network, increase loyalty, and help you plan success for the long term.