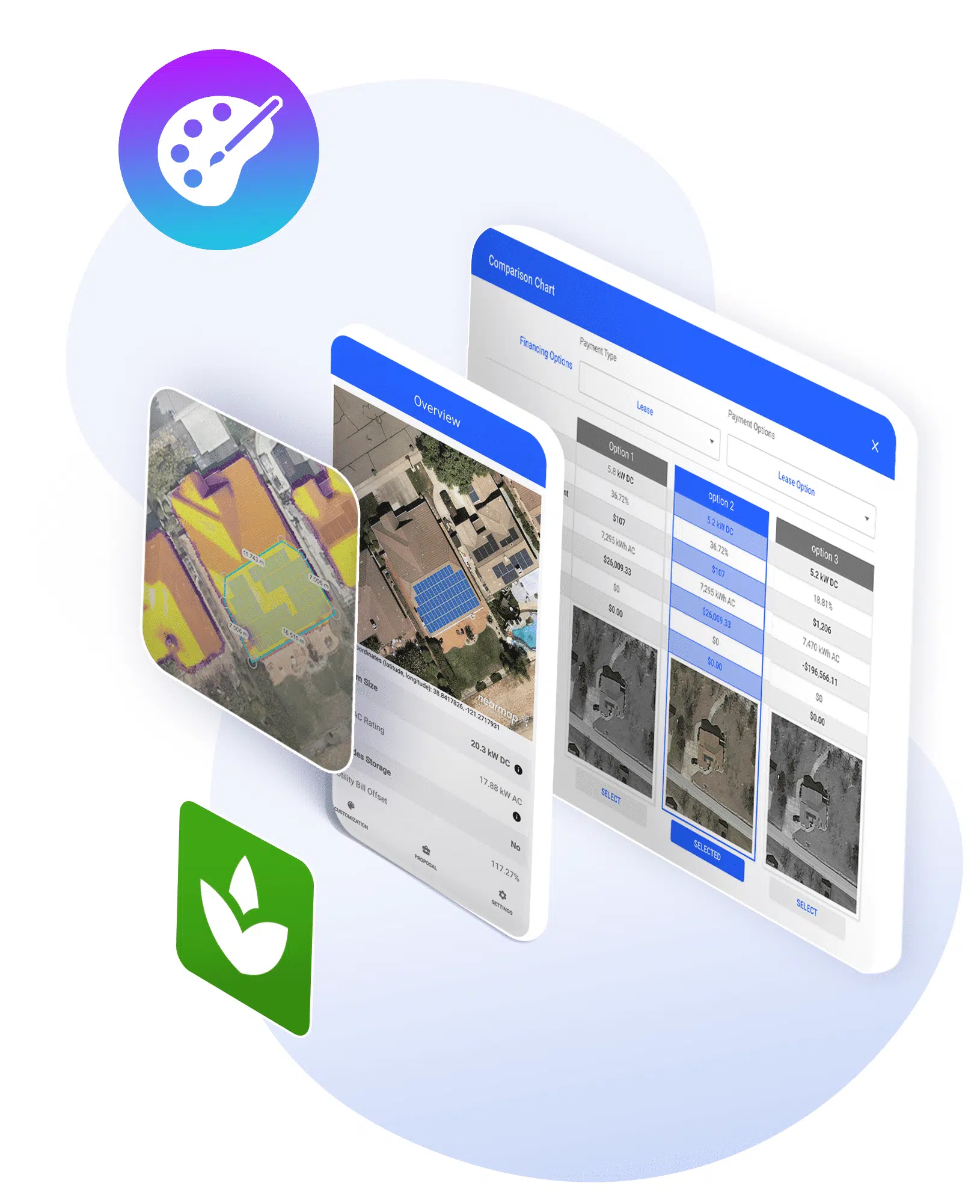 It's an indisputable fact that any homeowner asking for a proposal from your company is also shopping around for quotes from your competitors. The more costly the investment, the more quotes from other solar companies someone will gather and comb through before pulling the trigger and signing on the dotted line.
This is why it's important to make sure your quote stays at the top of the pile and your company is the front of your prospect's mind when they make their decision. If you're still using word processors or online templates for your solar quotes, it's time to step up your game and get customized.
If you've been taking our advice from our previous articles, How To Generate Your Own Leads and Remote Solar Sales, you probably have more quotes than ever to send out.  Here are 4 ways to use the art of quote customization to make an unforgettable first impression.
1) Choose a color scheme that reflects your company
Does your company have any brand guidelines that everyone on your team must follow when making changes to your website or sending emails? Make sure your sales proposals match. Your quotes need to be recognizable to anyone viewing them that they are from your company, using your brand colors is the easiest way to demonstrate that.
If you don't have a brand color scheme in place, now's the time to put one together. Try mixing and matching the colors in your logo around and consider adding a few complimentary colors to make sure you have a scheme that works in all aspects of the day-to-day of your business, from email signatures, newsletters and finally, your quotes.
Having these colors pop up in front of your potential customers at every stage of their buyers journey will do wonders for your brand awareness when they receive your proposal in their inbox and instantly know who it's coming from. Once that's done, add your logo to the top of your quote to match your design and seal the deal. Pair this with a good first impression and your quote is sure to move to the top of the pile.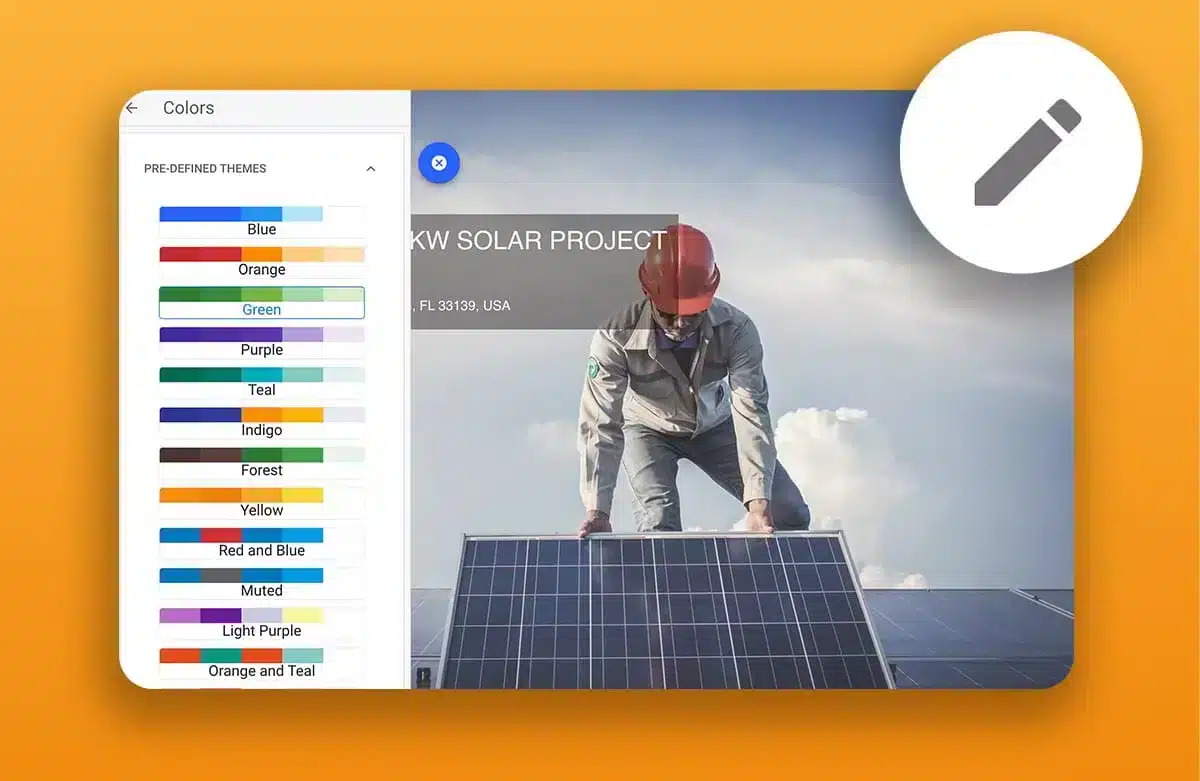 2) Include eye-catching imagery
No one wants to look at a wall of text and numbers, especially if your competitors are sending out visually-compelling quotes to your leads. Once you have your color scheme set up, it's time to put together some visuals that match your overall design and add extra value to your quotes.
Find an image to use as a cover page of sorts where you can superimpose your company's logo and the information about the solar project you're working on such as the name of the client, the size of the system they're being quoted for and their address.
This image could be a photo of one of your previously installed solar systems or a stock photo. No need to hire a designer or use an expensive design tool/software like Photoshop, just pick something clean that you think would help to visually describe your company. Finally, make sure the image has a high enough resolution that it'll look good on any display, whether it's a phone or a computer screen.
3) Make the facts stand out
The best proposals are fluid. A quote that you can either change on the fly or reorder based on what matters to the client are the ones that are most likely to get you the sale. Use a web-based proposal that you can make changes to without having to resend it every time you add a discount or change materials.
Include the information the homeowner wants in the most logical order for them. Are they more focused on the actual solar design on their roof? Make sure that you're not only including a visual of the panels on their roof but also make sure it's one of the first sections they see on the quote. If they're more concerned with information about financing options or energy production and less how the system looks, put those up at the front and save the looks for later.
Another feature you should consider is making sure you can remove anything that may not be relevant to any specific client you're speaking with. If there's information that doesn't make sense to show someone, don't clutter up the quote and remove it. A client who just wants cost, savings and solar power production information might not need to see all the materials you're planning on using on their install. It's worth considering whether or not you would like to display this on their proposal.
4) Get yourself a solar proposal software that can do it all
Solargraf is a solar sales accelerator and design tool with robust customization options developed to help you close more deals than ever.
A Solargraf proposal is fully customizable and dynamic. You can now select which fields you want to display to your leads and in what order. Choose from a set of pre-defined color schemes or create your own with any hex codes you'd like (or just pick from a color wheel). We also have 7 font options to select from to choose the one that best suits your business.
Finally, we've added the option to name your proposals. Whether you want something to the point such as "Commercial Solar Project" or something more tailored to the homeowner, you're free to customize everything as you'd like. All these options can be tailored both as a company-wide setting and also on a project-per-project basis.
In closing.
While a basic quote might do the job, personal touches on your proposals will take them to new heights. Book a demo of Solargraf today to see all our new customization options in action and learn what a customized proposal can do for your closing rate, as well as see our full list of additional features built to ensure you get the sale every time.