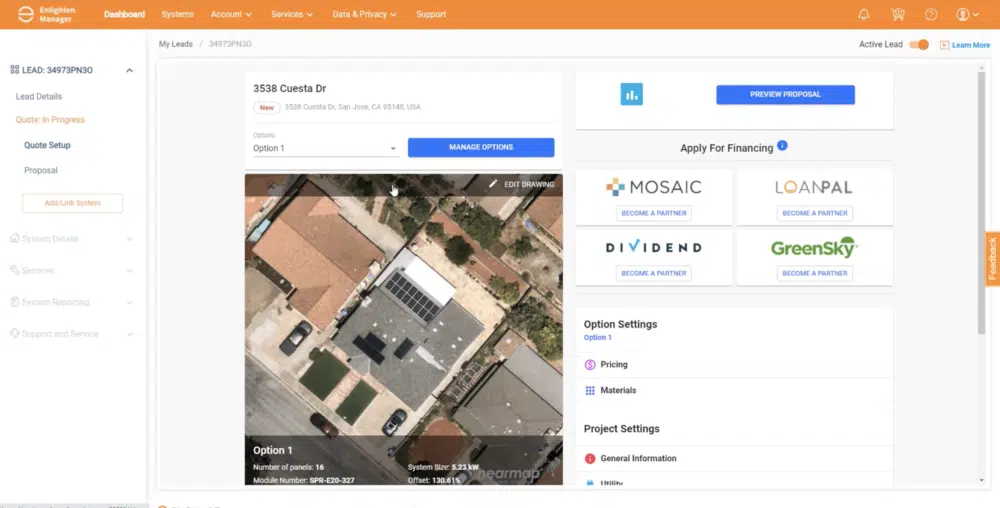 Great news for installers of Enphase Energy products, Solargraf's solar software and design tool is now available directly within Enphase's Enlighten Manager! Here's everything you need to know about this brand new integration, how to access Solargraf inside the app, and why you should link your Enlighten and Solargraf accounts today.  
What is Enlighten Manager?
Enlighten Manager is a software that allows installers of Enphase products to claim new leads, apply for incentives, access the Enphase store, and more, on all in one convenient location. Homeowners can use Enphase's System Estimator portal to get an idea of what kind of solar plus storage system they may need for their home and submit this information to solar installers using Enlighten Manager who can then contact them with a solar proposal for their property. 
 With Enlighten Manager, solar contractors don't need to rely on third-party lead generation companies to buy solar leads from and can benefit from a host of additional services to monitor and manage Enphase PV systems all in a single application.  
How to Access Solargraf's Design Tool inside Enlighten Manager.
Accessing Solargraf's solar software in Enlighten is a quick and easy process. Just head to the Design and Proposal Tool from your Enlighten Manager dashboard and log in to your Solargraf account.  
 If the email address you use to log in to Enlighten is the same as your Solargraf email address, our systems will cross-reference each other and immediately link your Solargraf account to Enlighten. If you have separate login email addresses, don't worry, you can simply change your email address on either Enlighten Manager or Solargraf so that they are the same and integrate with both services afterward. 
 Once your accounts are linked, you can then open up a new Enlighten Manager lead and create a quote based on the details they have provided to you directly in Solargraf without ever leaving Enlighten. You can also enjoy the extra benefit of having the project's address already auto-populated in Solargraf to reduce the time spent searching for the right home.  
What are the Benefits of Linking your Solargraf account to Enlighten Manager?
While Solargraf's solar software is already designed primarily to speed up your pre and post-sales workflow, using it within Enlighten Manager removes the work and time involved with switching between applications and re-entering that data that you already have in front of you from another source. 
 Once the quote has been created in the Design and Proposal Tool, you can also benefit from Enlighten's lead status tracking as well as ensure that all your Enphase leads and projects are visible in one single dashboard with additional information such as your company's scorecard data and your service requests.  
 This adds a whole new facet to our goals as solar professionals to have a truly all-in-one experience when it comes to generating leads, creating projects and proposals, applying for financing, and monitoring our client's solar systems remotely.  
In Closing
If you are already an Enphase installer, connecting your accounts and using Solargraf directly within Enlighten Manager is a no-brainer. Shave more time off of every solar job you work on to make sure that your solar leads aren't left waiting for a quote, and keep an eye on all your leads, projects, and closed deals in one single application. 
 If you are not yet a member of the EIN, you can apply here. To create an Enlighten Manager account, head to this page to sign up, or get started with Solargraf by booking your free demo today.