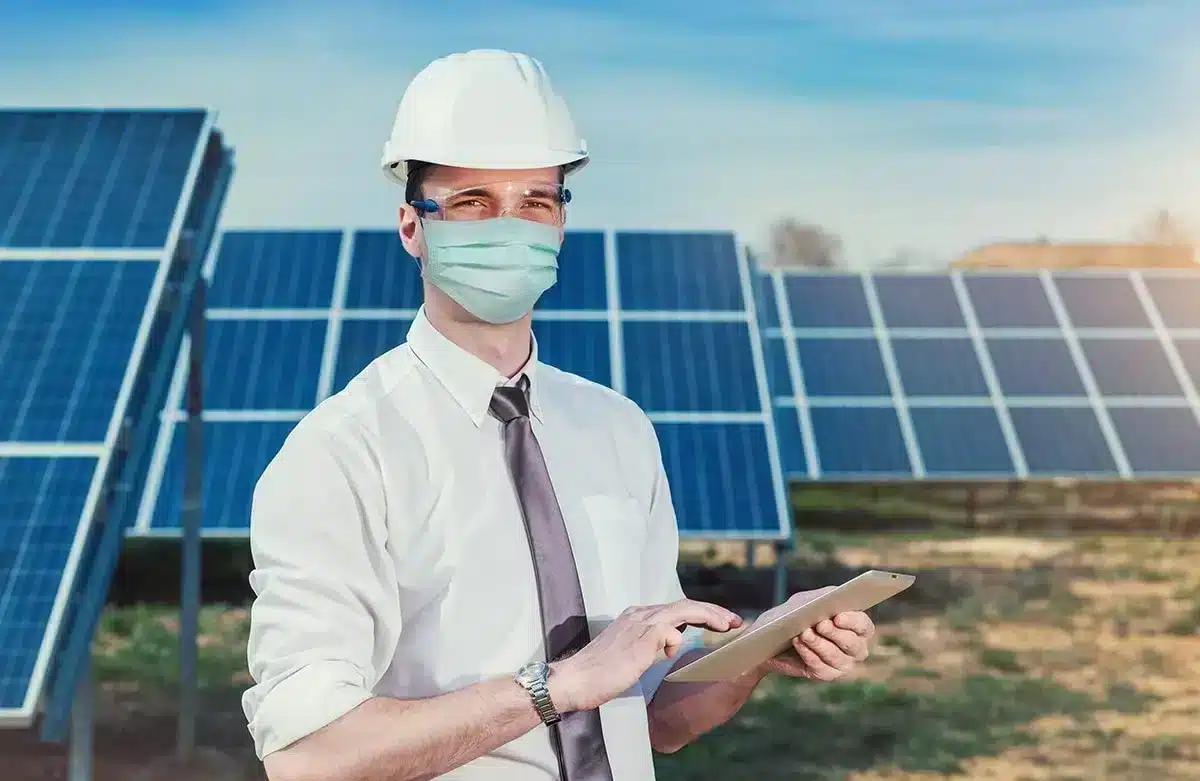 The COVID-19 Crisis was one that no one saw coming and still has many of us overwhelmed with fear, uncertainty and an absence of direction while navigating through uncharted waters.
Many businesses have either closed their doors or radically shifted their operations in order to adjust to the current state of affairs in a safe and responsible manner, leaving their customers in precarious positions while the world turns its attention to face a global threat.
Fortunately, while the looming economic impact remains to be seen – the silver lining for Solar contractors is that they can be part of the solution in a unique and productive way. This article will explore how the Solar industry can play a crucial role during these trying times and how your business can facilitate the needs of those who are (and may yet to be) victimized by this pandemic.
As Solar professionals, we have the privilege of offering peace of mind as well as assurance that property owner's and their families do not have to be at the mercy of society's infrastructure and through our technical expertise we can share how the power of Solar equipment can provide independence and security when we need it the most.
Eliminating Grid-Dependency
If there is anything that has become painfully obvious through this current crisis, it's recognizing that both individuals as well as society are woefully unprepared and overly complacent with how to adjust to a major lifestyle and community shift during a pandemic. Recreational activities are suspended, sanitary products are monopolized and typical creature comforts are reduced to the bare essentials.
While unemployment rates are now approaching record highs (with no clear end in sight) and the seasons approach warmer weather, conditions are gradually intensifying and we can only speculate the potential catastrophic consequences. While we are no stranger to blackouts and very demanding grid loads during summer months, the dependency on power will reach its peak while quarantine and isolation remains in force. It's during these times where grids will become more easily compromised and power to homes & businesses will become unstable.
Implementing a Solar solution for energy (whether as the primary source or strictly for emergencies) is the most diligent measure to have contingencies in place, should the power grid fail or prolonged outages increase, customers and their critical possessions will be protected.
This will especially benefit those who rely on electric medical devices at home, cooking appliances to feed their families and security hardware to keep their property safe. Evaluating and discussing the need for these applications are critical for those who may not recognize the vulnerability of their essential needs, especially during a time where we are forced to stay home and shelter in place. With a Solar solution we can avoid potential dangers and minimize our reliance on the outside world.
Rebirth of Renewable Energy
The COVID-19 Pandemic has shown us many alarming impacts of what this type of crisis can have on a global scale, however one of the biggest surprises was the magnitude of relief on pollution and environmental impacts around the world. The sheer reduction of traffic, inactive buildings and massive reduction of gas consumption has produced an incredible reaction of less pollution, clear waters and shrinking seasonal smog.
The world has already taken notice and countries everywhere are celebrating the cleaner air and brighter skies around them. In that spirit, there has never been a more encouraging time to further reduce the carbon footprint by shifting to Solar power and enabling individuals to be a contributor to this ongoing remedy.
Climate change's days may be numbered if we can all participate especially during a time where it makes the most sense. Demonstrating studies and current statistics to potential customers will enlighten those who may not fully grasp the weight of our planet's present state. There is an empowering feeling to enable those who are capable of making a difference with the environment in a meaningful way by creating a Solar solution that they can be proud of.
Substantial Solar Savings
While there have been a number of tax credits and initiatives brought forward to offer relief to those adversely affected by the COVID-19 Pandemic, our energy bills will still see a major spike due to the increased presence at home and use of electronic devices. While the end of this crisis is still undetermined, the fact of the matter is Solar energy is the most efficient form of power currently available.
The sooner that customers can transition to Solar, the greater the opportunity for savings, especially during a time where both time off work as well as time in quarantine are likely a long way from being over with. Doing a value proposition with your potential customer can be a beneficial exercise to quantify the impact of the upgrade and how it may help them during these trivial moments. There has never been a more impactful time to have a candid conversation about finances while resources are limited and how implementing a Solar solution can protect property owners and their loved ones from hardships as well as unforeseen expenses when domestic energy use is at an all time high.
If there's anything we have learned through this crisis, it is that preparation and proactive measures are just as important for survival as maintaining our health and safety, especially during a worldwide pandemic. There has never been a better opportunity for us to review our situations and investigate what can be done to create a more comfortable and trustworthy environment while we practice isolation and begin to recognize what is most important to us as well as what we are most reliant upon. COVID-19 is a serious issue that demands serious response.
While we are limited in steps that can be taken to eliminate this new threat, there are major actions that we can take using the power of Solar energy to increase our control of the environment as well as mitigate our risk to ourselves, our belongings and those we care about while in isolation or otherwise. Solar professionals have a golden opportunity to help others by leveraging our industry knowledge, market expertise and enthusiasm for all of the features and benefits of Solar technology and viable ways that it can support our latest lifestyles. Ultimately, the choice is our own to ensure we have an adequate plan in order to thrive in a constantly evolving world.
This article appears in our Remote Sales Toolkit, access more articles 
here
.